Autumn Reflections
Encaustic photography is a technique that uses beeswax and damar resin to protect a photograph. It adds mystery, texture and an ethereal feel. Other items can be incorporated such as encaustic paints, pastels, oil paints, found items, texture, or stencils to create a mixed media piece. Images can be printed on different types of paper and embedded into the wax or burnished over the top layer of wax. The "caustic" part of the term indicates that heat is used to melt and blend the layers of wax into a unified piece.
Encaustic Care: Indoor environments generally do not get hot enough to worry about the wax melting. Just make sure wherever you hang or store your art, temperatures do not exceed 120 degrees. Hangning encaustic photography in prolonged periods of direct sunlight is not recommended. Do not leave your art piece in a hot car. During the first year while the wax is curing, light haze may appear. This is called blooming and is normal. You can remove the bloom and/or any firgerprints by buffing your artwork using the warm/clean palm of your hand, a soft lint-free cloth or even a panty hose. Just make sure the surface is clean and dust free first to avoid scratching the wax. Dust your artwork with something soft like a Swiffer or soft lint-free cloth.
Framed in vintage cheesebox.
Framed: 12.5" x 4.5"
---
About the Artist
---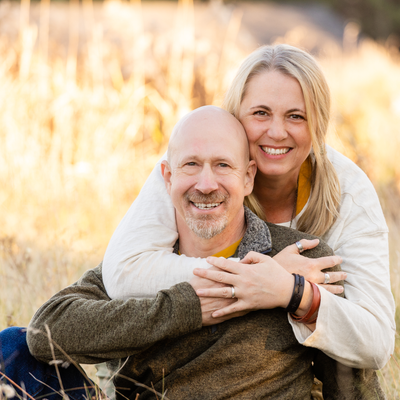 Randy and Lisa Lee
Randy & Lisa Lee reside in the rural landscape of NW WI, along with their 5 dogs, 7 cats, 3 cows and small flock of chickens. They are photographers who favor images that are simple in nature, yet meant to provoke feelings, emotions, and fond memories. Different camera work, editing techniques and textures are used to help bring forth this moody style. All images are edited with an encaustic layer in mind that is physically fused to the images before framing. This adds even more texture, depth and added interest to the overall image. Reclaimed and salvaged materials are then used to not only frame the images, but to create a piece of art. What can seem like an ugly, but worn mess becomes something of reborn beauty, the meeting of old to new. The patina and aged charm of the wood and metal, the textures, bubbles, and unknown ways of the wax makes each piece truly unique and a one-of-a-kind work of art.
Choosing a selection results in a full page refresh.
Opens in a new window.