Stanley Wood Sculpture
According to German legend, the Waldgeist, literally "wood-ghost," is a playful woodland spirit, a maker of mischeif, and a protector of the forest. Hunters and woodsmen once entered the German forests and rapped on a tree-- hence the term "knock wood" -- to awaken the Waldgeist and make sure no harm came to them while they walked within. In more modern terms, the Waldgeist still lives on, his impish face carefully hand-carved into fine wood by craftsmen. He can be spotted in German homes, often placed near the doorway as a watchful talisman.
---
About the Artist
---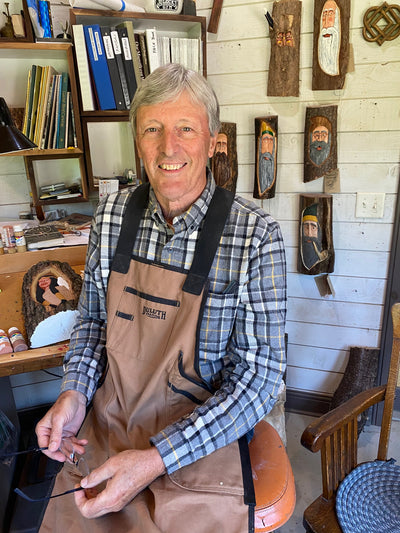 Bruce Bosman
Bruce Bosman is a lifelong resident of Kenosha, Wisconsin and has been visiting Door County since the Coyote Roadhouse had seven stools and beer was 25 cents a bottle. Since that time he's picked up a support group that includes his wife, daughters, and grandchildren, all of whom have enjoyed Door County as well. Bosman really has no art education at all— only what he picked up during his career as a memorial engraver; That was an entirely different process than wood carving, but the breadth of memorial art is quite extensive and very enlightening in its own way. 
Bruce's wood carving started just before the pandemic, and coincided with the first winter of his retirement in 2018. It began with a strange looking bird that became a cardinal and ended up at his mother's. Then some fence post scraps became old men with long beards, then a bas-relief cardinal, then some Santa-type elf faces in scrap ash wood. These carvings were "priceless" and ended up with other family members. But his family encouraged him to keep doing these little old men. He kept carving and the details got more interesting, and the little old men became the "spirits" in the trees themselves. Bosman's daughter found the Legend of the Waldgeist in researching the story of the mischievous, protective souls of the forests. The birds and squirrels were natural sidekicks to the wood ghosts, so they became subjects to be included. Bruce states "So as long as carving stays fun and keeps me out of trouble, I'll continue to be the biggest chiseler in town."
Choosing a selection results in a full page refresh.
Opens in a new window.