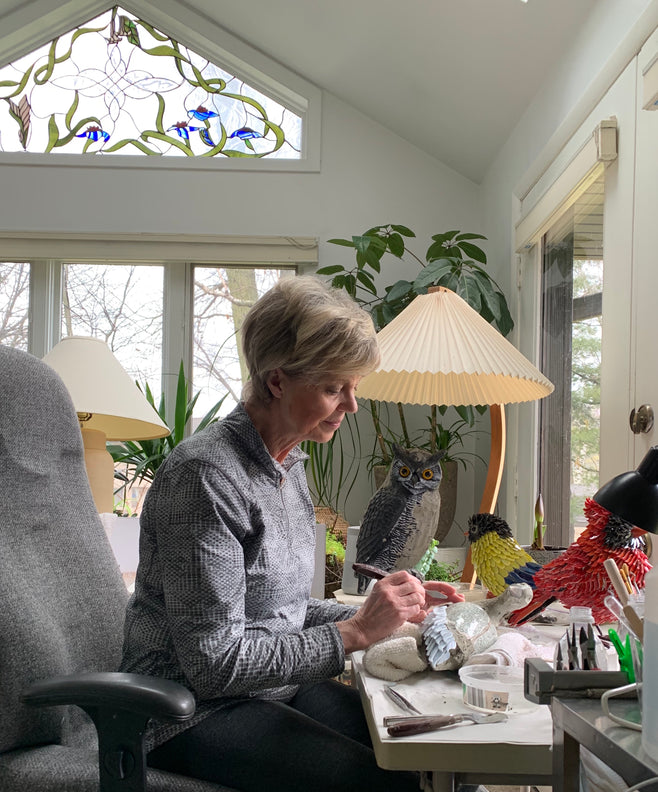 Artist Highlight: Sarka Evans, Contemporary Mosaics
The first half of Sarka Evan's life, she lived in Prague, Czech Republic, a city full of art and history. Visiting galleries and theaters was part of normal life. When she found herself on the other side of the world due to life circumstances, she pursued art in a different form. In 2015, she retired after spending 41 years in the field of clinical psychology, and she devoted her free time to pursue art.
Years ago, she started with stained glass, making multiple large stained glass window panels and Tiffany lamps, and gradually metamorphosed into glass and stone mosaics. Chiseling stones, like the old Egyptians when building the pyramids, became intriguing. Depicting nature and people in it, became her passion.
Over the years, she became interested in landscaping and developed a large flower garden around her house, with courtyard walls and water fountains, attracting wild birds and butterflies. They were the source of her inspiration. She started using natural materials in her work. She included not only glass and stones, but also driftwood, tree bark, and clay.
She has gone through several stages, "time in the woods", "the girls series", and most recently the "bird series"; bringing life into the majestic beauty of cardinals, blue jays, owls, warblers, blue herons, and even domesticated roosters.
Sarka's studio is a sunroom in her house, and watching the four seasons go by outside while working on her art, her dogs laying by her feet, and the music playing, is the ultimate source of peace and beauty for her.
Back to Blog