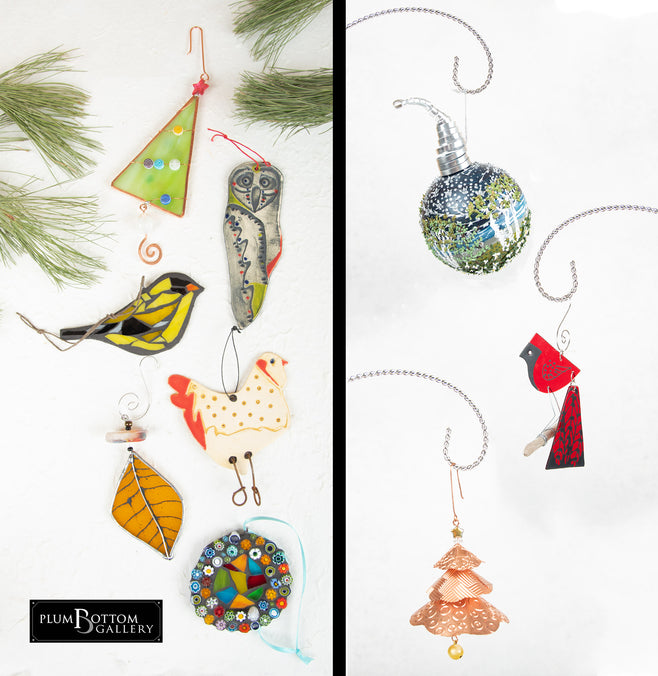 Ornaments: Art Show 9
Plum Bottom invited you to their Annual Ornament Show on Saturday, December 7th from 10-5pm at their Plum Bottom Road location.  Come find the perfect addition to you yuletide tree with an amazing selection of one of a kind ornaments from their family of artists. Artist Gail Gilson Pierce will be on hand with her collection of Door County landscapes. Perfect to commemorate a special memory or vacation.  New ornaments from painter Cleary Wamhoff, potter Pat Black, glass artist Laurel Grey, paper quiller Heather Allard and local favorite Mary White will be on hand. Come enjoy a cup of coffee or a glass of VonSteihl wine and browse this festive collection.  Can't make it into the gallery?  Check out PlumBottomGallery.com to view this show from the comfort of your home.
Plum Bottom Gallery now has 2 locations! Plum Bottom Gallery, Plum Bottom Road location is open daily 10 AM to 5PM and Plum Bottom Gallery,  Downtown Egg Harbor is open daily 10 AM -5 PM. To visit our Plum Bottom Road location, go 15 minutes north of Sturgeon Bay or 5 minutes south of Egg Harbor on Scenic Hwy 42 then east on Plum Bottom Road (1 mile) to 4999 Plum Bottom Rd. Just look for the yellow flags!  Call 920-743-2819 for more information.
Back to Blog