Smoke On the Water
Quote from Ledvina: "Here's one of my favorite shots of the milky way from last year - lake mist rolling off Salo Lake with a July milky way blazing in the sky. This is one shot, believe it or not, and the mist in this shot is due to some unusually cold temperatures. In fact, where I was at was the coldest spot in the United States, coming in at 34 degrees. As I'm writing this caption it's a frigid -35F in Grand Forks, so honestly, I would happily take 34 degrees right now! Anyways, I like this shot just because of all the color you are able to pull out of the night sky, and the way the blue-white flashlight created a blue cast on the mist. One of the most common misconceptions about the night sky is that it's just black and white! Maybe to our eyes it appears that way, but when you point a camera at the stars, what you get is FAR from a black and white photo. In this image, the greens and purples are due to a phenomenon called airglow. Airglow is produced in a similar way to auroras - particles in the ionosphere become excited and release light - but what is exciting the particles if it's not solar wind (which creates the aurora)? Well, one way is through cosmic rays - cosmic rays are high energy particles from interstellar space that can excite atoms when they collide with them. At night these reactions are easily visible in the form of airglow. Another source is the sunlight itself - during the day the Sun's radiation breaks apart atoms in the ionosphere, and at night, some of these atoms recombine. Typically, it takes energy to break bonds; energy is aborbed, and when bonds are formed, energy is released. When atmospheric atoms recombine, this energy is released in the form of visible light which we can see with cameras. Airglow is cool to me because as far as I know, there's no way to predict it or track it - it just "appears," and this makes every night unique with a camera - you never know if you're going to get photos with red, green, purple, or a combination of all three."
Printed on aluminum
Various sizes available
This piece is artist made and is non-returnable. Please allow 3-4 weeks for shipping.
---
About the Artist
---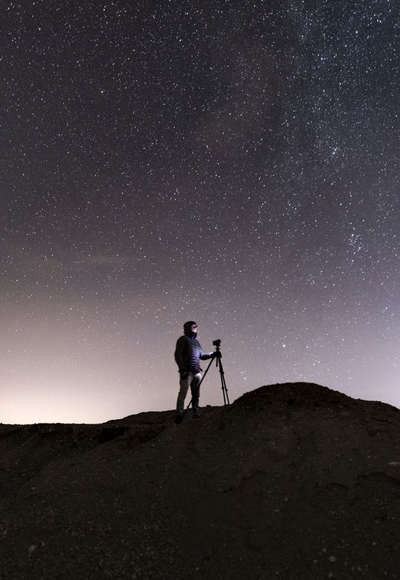 Vincent Ledvina
Vincent Ledvina is a graduate student, citizen scientist, aurora chaser, and artist.
Since a young age, Ledvina has always been fascinated with the natural world, including outer space. After picking up a camera for the first time when he was 16, he fell in love with photography, especially landscape and astrophotography. In high school, he took his first aurora photo and was hooked on the thrill of the chase and the science behind the lights.
Vincent's goal is to educate and inspire others through his science efforts and photography, Aside from creating beautiful art, Vincent is extremely active in the citizen science and space weather fields!
Choosing a selection results in a full page refresh.
Opens in a new window.