There Is Magic in A Moonlit Garden
There is Magic in a Moonlit Garden where flowers come to life in the dark and plants take on an ethereal beauty. The glass portion of this sculpture is created through an intricate process where hundreds of glass strips are hand cut, arranged on edge, and kiln fired to form a solid round. The interaction between the individual pieces brings fluid movement and depth to the design, encouraging the viewer to engage with the work and look closer. The stainless steel stand is fabricated specifically for this piece. It can be pivoted This piece is designed for indoor use and should be placed near a window or light source to maximize the interplay of light and shadow. The sculpture pivots on its base and can be rotated to capture the light.
Each piece is one of a kind so slight variations will occur.
Dimensions: 15.75" x 12"
---
About the Artist
---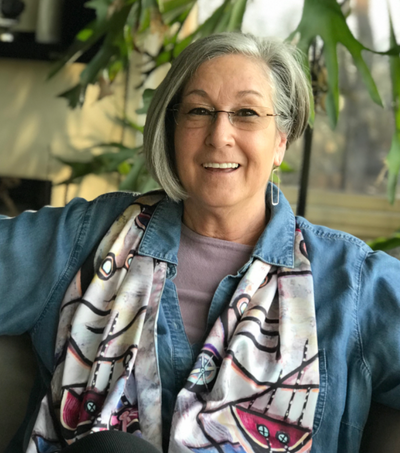 Caryn Brown
Working in kiln glass, Caryn Brown has learned to trust her creativity and what she knows about the science and physics of glass.  From concept to creation, Brown actively manipulates the fundamental materials of sheet glass, frit (ground glass) and rod/stringers.  Her work is then surrendered to the kiln where the magic of heat, often in excess of 1500 degrees, works to change the raw materials into art.
Living in the Indiana Dunes National Park (United States,) Brown has access to natural landscapes that includes miles of beach along the southern shore of Lake Michigan. From sand dunes to lake shore, marsh to areas populated with trees, there is nature all around  me.  There is the fierceness of the winter winds across the Lake Michigan and the gentle breezes of summer. This nature, in all its forms, has the ability to bring about a calm serenity within her. She strives to reference that sense of energy, beauty and calm in the pieces she creates.
Choosing a selection results in a full page refresh.
Opens in a new window.